​Anzac Day

is a national day of remembrance in

Australia

and

New Zealand

that broadly commemorates all Australians and New Zealanders "who served and died in all wars, conflicts, and peacekeeping operations" and "the contribution and suffering of all those who have served".Observed on 25 April each year, Anzac Day was originally devised to honour the members of the

Australian and New Zealand Army Corps

(ANZAC) who fought at

Gallipoli

against the

Ottoman Empire

during

World War I

. Anzac Day is also observed in the

Cook Islands

,

Niue

,

Pitcairn Islands

, and

Tonga

, and previously was a national holiday in

Papua New Guinea

and

Samoa I have found several people who had enlisted and also fought for Australia in my family tree. Close to Home, My grandfather Charles Henry was a

Rank Signalman WW2 Posting at Discharge SIGS 3 AUST DIV The 3rd Division was deployed to New Guinea in early 1943.

Charles Brother in Law

George Millendon Bisdee

( My great Uncle) served for almost a year in the Korean war from 1952 to 1953 in the Royal Australian Infantry Corps 3rd Battalion, The Royal Australian Regiment.

Charles Uncle

Augustus Hahnel

( My second great Uncle) served in WW1 a Sergent in the 51st Battalion leaving for France/England/Egypt on 03 August 1915

and

returning to Australia 28 February 1919. ( I have found Gus complete military records, with medical (even includes dental) and transfer notes and statements of service in a 20 page document.) Serving in the next war, WW2 is Gus' youngest brother

Charles Richard

( My second great Uncle), he served for 3 years as 3 Aust Landing Craft Workshop Sec.

To the saddest find I have found in the family military history is my great aunt Lily's first husband,

Kenneth Kroenert

, was aged 22 on the enlistment form at the time of enlisting the 9th of November 1939 in the 2/11 Australian Infantry Battalion Rank Private, marrying my aunt

on the 1st of December 1939, son Howard was

conceived

before being deployed o/s.

He was a POW in Stalag VIIIB when he died after a short high fever. He was accorded a military funeral by his German captors, never to meet his only child. Lily must have been distraught and maybe not mentally coping, as she had given her child to Kenneth's NSW family to bring up as their own child.
Then on my fathers side, I have found my 2 x great Uncle Albert Russell Emerson who enlisted at the age of 20 years, although I was able to find a attestation form, I have no further information. Although I am sure that many more have served, I have not yet come across any more records .and with that, They shall grow not old, as we that are left grow old:
Age shall not weary them, nor the years condemn.
At the going down of the sun and in the morning
We will remember them

---

I have taken the Emerson/Haywood lines back a lot further and have stumbled upon some more convicts, 3 of them to be exact! Ladies first!,

Elizabeth Vellor

arrived in Australia 10th June 1801 on the vessel Earl Cornwallis. I came across this on the web, I left the credit and date written in...

"Elizabeth Voller

Posted 04 Dec 2007 by kushkajen

Elizabeth Voller was christened the day after Christmas 1781 in Hambledon, Hampshire, a small village 15 miles north of Portsmouth on the English south coast.

Her parents were William and Ann Voller, and she had at the least an older sister and a younger sister and brother.

When she was about eighteen she was accused of stealing a range of items including an apron and a handkerchief from Thomas Basset, Esq, who lived in Romey, 10 miles from her birthplace.

She was sentenced to seven years transportation in mid 1799 and was incarcerated in England for almost 18 months before she boarded the 'Earl Cornwallis' with 287 other convicts,

193 men and 95 women. The journey to Sydney, New South Wales took 206 days, arriving 12 June 1801, at least two years after her alleged crime. Her elder sister Ann was also transported to

New South Wales as a convict two years later.

When Elizabeth arrived in Sydney, it was a town of a few thousand people, mostly convicts and soldiers, with men greatly outnumbering women. Sometime in her first 16 months in the colony,

Elizabeth met Robert McAllister (known as Robin), an Irishman ten years her senior who had been sentenced to life transportation for his involvement in the Irish rebels. He had arrived in

Sydney the year before her. Their first child, Mary Ann, was born in May 1803, and they had six more children in the next seven and a half years, two of whom died in infancy.

It appears the relationship ended at some point after the conception of their seventh child in Oct 1809, (and probably after her birth in June 1810 since she was given his surname)

which would have left Elizabeth single with five very young children. She then married John Bourke in Sydney, in March 1815, when she was thirty three and he was about twenty eight.

John was an Irish Catholic who had arrived in February 1813, having been sentenced in Ireland to seven years transportation. At some point after he finished his sentence,

he was granted land at Appin, about 65 kilometres south-south-west of Sydney. They moved there as settlers, clearing and farming their land, and are shown living here in the 1825 muster.

But by December of that year, Elizabeth had returned to Sydney and died. She was buried in the Old Sydney Burial Ground, Devonshire Street, where Central Railway Station now stands.

When she died, Elizabeth was 44. She had lived almost twenty years in England and twenty four in New South Wales. She had spent somewhere between eight and thirteen years with Robin,

who lived until 1832 until he was killed in a cart accident. She had been married for ten years to John, who outlived her, although it's unclear for how long. She had spent a period

of about eight or nine straight years either pregnant or breastfeeding- for the most part both at once. On her death, she had five children between fifteen and twenty two,

and five grandchildren, between seven months and five years old.

transcript of crimes committed

Elizabeth Voller aged 18-crimes committed

Hampshire Record Office - Elizabeth Voller p2"

​Which takes me on to the second convict,

Robert (Robin) Mcalister

. O

ne of our first Irish connections (I Knew there was Irish in there somewhere!!) Robert was convicted for his involvement in the Irish Rebellion. He received life transportation.

The

Minerva

departed the Downs, on 6 August 1799 bound for Cork. She sailed from Cork in convoy on 24 August with 165 male and 26 female convicts, together with three children belonging to convicts. Many of the prisoners were United Irishmen transported for their role in the 1798 rebellion including General Joseph Holt.

Robert was married before he was convicted and sent to Australia, He was 39 years old when he left, so I would assume he and his wife had children ( I have not got that far yet)

​

Then there comes George Ibbotson, George was sentenced to life March 1817 for horse theft. October 1817 George was put on board the convict ship Batavia heading to Sydney New South Wales. After 2 years George applies for Banns to marry Mary Ann Mcalister ( daughter of Robert Mcalister and Elizabeth Voller). Their daughter Jane Ibbotson is our decendant, she met and married Henry Collis, their daughter was Mary Jane who married James Haywood, their daughter Mary Ann Malander married Albert Ernest Emerson, their daughter Mary Jane married Edward Henry Shearer who were my grandfather Aubrey's parents. I will be filling in each surname page with more detailed information as I get to it, but for now, this is it :D enjoy!
​Davina.


I have contacted a very distant relative through my DNA results and we have a common ancestor in Richard Emerson B: 1807 ( my 4 x great grandfather via my Grandfather Aubrey Shearer's mothers side of the family.) She told me her link was Richards son Richard Harvey Emerson and that he had fled Australia and there were lots of information about it in the Australian newspapers, SO I went looking...

12 September 1868 Sydney Mail
​Albert Russel Emerson and John Emerson appeared to answer to information, in which Elizabeth Emerson charged them with having, on the 5th September, forcibly and with strong hand enter into a messuage of which she was in peaceable possession, and expel and put her out. Mr. Roberts appeared for complainant, and Mr. Pigott for the defendants. Elizabeth Emerson deposed that she is the wife of Richard Harvey Emerson, and the defendants are her brothers-in-law ; her husband lately carried on business as a dealer in oysters in King-street ; she lived there with her husband more than twelve months ; she last saw her husband on last Wednesday forenoon, at their residence in King-street ; she does not know where he now is ; but from what the defendants have told her, and from circumstances within her knowledge, she believes that he is not in this colony ; between 9 und 10 o'clock on last Thursday morning, the defendant Albert came to her bedroom and asked if she knew what was up ; she inquired if his brother(meaning John who was sick) was worse ; he replied that he believed Richard (her husband) had bolted,— that John had bought the business, that he (Alfred) was authorised to stay there for him ; and that the best thing she could do was to take a house and remove her furniture, or the creditors would come down on it, but that he would not remove the furniture or see it done; he produced no authority from either John or her husband, but said that John bought the business three months ago; Albert keeps an oystershop in George-street South; she went out with the intention of taking a house, but met with a friend who advised her differently, and up on whose advice she acted ; she had the key of the shop with her, and did not give up possession ; Mrs. Haynes accompanied her home ; Albert was then there ; she (witness) asked him to produce the document from her husband respecting the sale of the business ; he produced a memorandum from John, but none from her husband ; she read it, returned it, told him that it did not satisfy her, and desired him to leave the premises ; he refused to go, and she tried to push him out, but could not ; he used force against her ; she called in the police, who refused to put him out; she again tried to put Albert out, who resisted her, and pulled off his coat to fight her and Mrs. Haynes ; he seized her violently with his two hands by the throat, and thrust his thumbs upon her windpipe, when she was opening the door to get assistance ; he said ' __you, I will strangle you if you don't leave off; ' this took place between II and 12 o'clock on Thursday night ; she could not get him out, and he remained there against her will and without her consent ; Mrs. Haynes went home, and she (witness) went out to speak to a neighbour, when Albert closed the door against her and kept her out all night; her two servants were in the house, and remained there on her behalf ; on Friday afternoon she went to the shop, and remained there ; Albert tried to coax her to yield, saying that he and John were her friends, and that they who advised her were her enemies; after tea she went out, and returned about 11 o'clock, taking two men with her; several times she desired Albert to go out, but, as he refused to do so, she ordered the men to put him out, which they did ; Albert in this way interfered with her business, and on Thursday and Friday took all the money, daring her to touch a shilling; on Saturday morning she left home to consult Mr. Roberts on the matter, locking the door after her; immediately after leaving the house, as she stood speaking to a young men named Royal, she heard a noise, and, looking in the direction, saw the two defendants, Albert and John, break open her door with an axe and enter the house ; she returned at 3 o'clock, and found Albert and her two servants there ; she conducted the business and received money without interruption from Albert ; he left on her return ; on Saturday evening Albert again came ; he asked her if she was going to take the money and give it to John, or whether he should stop and take it; she said that she would both take the money end retain it ; he went away and she did not see him again until this morning ; she is now in peaceable possession ; she was in bodily fear when Albert said that he would strangle her ; before Albert took possession she was in peaceable possession, and taking the money of the business ; her husband held the shop under a seven years' lease, and in July last obtained a fresh lease ; her husband left her clandestinely, and left her without the means of support, except the sum of thirty shillings to carry on business with. Ellen Haynes and Henry Royal corroborated Mrs. Emerson's evidence. The defendants were committed for trial. Bail allowed.



Powered by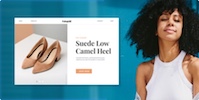 Create your own unique website with customizable templates.